Discover more from The View from the Front. By Stan R. Mitchell.
A newsletter and podcast about defense news and looming hotspots, produced by a prior Marine who's trying to help unite the country. Plus, there will always be some motivation and wisdom in each episode to help push you, because who doesn't need that?!
Is Russia in more trouble in Ukraine than most people know? And could time actually be on Ukraine's side?
Plus, six interesting things worth pointing out.
Hello, my friends!
I wanted to send you the latest news about the Ukrainian counteroffensive.
As a reminder, I will likely send out additional updates, as major breakthroughs or big news happens. (I will also do that for any big news happening regarding China, Iran, etc.)
I will make all of these FREE, so please feel free to share.
Also, if you can you support the show by becoming a paid subscriber, that will allow me to devote more time and resources to what I'm trying to do here.
You can sign up for free or as a paid subscriber at the blue button/link below.
You can also now sign up at Patreon or send a tip through Venmo (@authorstanrmitchell).
Thanks!
---
Russia and Ukraine news:
There's been a TON of things happening in Ukraine since my Thursday podcast.
If you missed the Thursday podcast, it's probably worth getting caught up to date with where things are if you have the opportunity to.
During it, I discuss some good things that have happened in Ukraine's favor:
Timestamp: 17:29. Ukraine destroys a S-400, one of Russia's premiere air defense systems.

Timestamp: 22:50. Russian helicopter pilot defects with helicopter AND spare jet parts.

Timestamp: 24:26. Ukraine drone strike reportedly destroys Russian supersonic bomber.
And then most importantly, I share three perspectives of the counteroffensive: the pessimistic view, the optimistic view, and then the middle-of-the-road view by General Mark Hertling. (Timestamps are availabe for these, as well, if you want to jump to them.)
You can find that entire episode here (and below): Podcast Episode 8-24-23.
---
But back to the point, a lot has happened since Thursday.
I'm going to share one big thing, and then six additional points.
First, there was this impressive Washington Post column that dropped on Friday. Honestly, up until this point, analysts had been pretty divided. Many negative on the counter-offensive, many still positive.
But the column by retired U.S. Army general David Petraeus (the former commander of the troop surge in Iraq, as well as commander of U.S. Central Command and NATO/U.S. Forces in Afghanistan) seemed to shift public opinion.
There was a ton of discussion regarding his column. (Though in fairness, he co-authored it with Frederick W. Kagan, a senior fellow and director of the Critical Threats Project at the American Enterprise Institute.)
The column was titled Ukraine's counteroffensive might yet surprise critics, and it was really something else.
Full disclosure before we begin: The column follows my stated optimism
that the counteroffensive will succeed, something I've been saying
since at least March or April of this year. So I am VERY biased in the direction
of success as described in this column below. Just wanted
to give you a heads up on that if you're one of the new subscribers.
Petraeus and Kagan set up the column with this important caveat:
War does not proceed in a linear fashion. Defenders can hold for a long time and then suddenly break, allowing an attacker to make rapid gains before the defense solidifies further to the rear. The Ukrainians aim to generate exactly this effect — and there is reason to think they can. Ukraine's offensive push is far from over. In fact, it is still in the early stages — just 10 weeks into what is likely to last at least four more months.
So, they make the important point that things can suddenly change and that we're only 10 weeks into something that will last four more months.
But they reach the true meat of their argument with these paragraphs, which are absolutely worth the read (maps below, if you want to look at the areas they mention):
Ukrainian forces are advancing in two key areas — in central Zaporizhzhia Oblast near Robotyne on the road to Tokmak and Melitopol, and in eastern Zaporizhzhia Oblast south of Velyka Novosylka on a line toward Berdyansk. The Ukrainians appear to have penetrated at least the forward-most belt of Russian mines and defenses in both areas, and their advance in the Robotyne area appears to be accelerating. They have also taken back some significant ground around Bakhmut, which is the only town Russia was able to capture during its own costly offensive last winter.

Ukraine's incremental gains are part of a larger effort that British Chief of Defense Staff Adm. Tony Radakin termed "starve, stretch and strike." Ukrainian forces are stretching Russian defenses by attacking at multiple points along the 600-mile front. They are also attriting assets in Russian-occupied territory, taking out artillery units, headquarters and reserve force staging areas, as well as targeting key supply depots and routes to make it more difficult for Russia to sustain its defense. To put it simply, Ukraine is applying pressure on their opponent until something breaks, at which point they will commit their reserves and strike.

Russian front-line forces are likely tired, if not exhausted. Some have been defending since at least the start of the counteroffensive on June 4, and many of them have been in place for much longer than that. Fresh units have not been rotated in. It is also unclear how heavily mined or manned Russia's secondary defensive lines are, but there is good reason to doubt that the Russians have large numbers of high-quality soldiers holding them. Most important, Russia lacks large operational reserves. This means that any Ukrainian breach of existing lines will be difficult to quickly plug.
Here are the latest maps on these advances (from left to right: Tokmak advance, Berdyansk advance, and Bakhmut encirclement).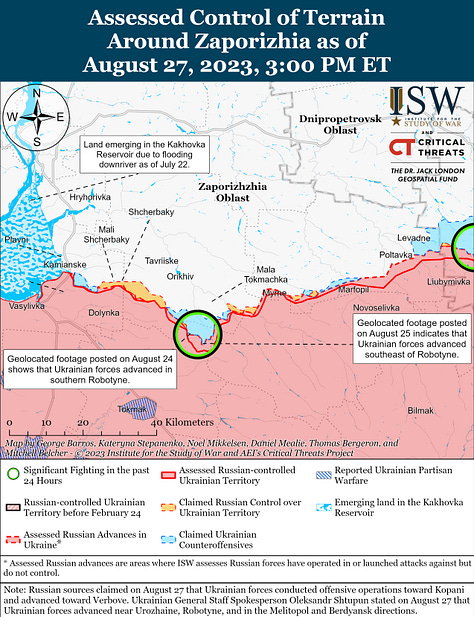 ---
I want to point out six, additional interesting things.
---
Hope you enjoyed the piece today. If you have any questions or counter-points, drop them in the comments. And don't forget, the piece is free to read, so share with anyone you think would enjoy reading it.
The View from the Front by Stan R. Mitchell is a reader-supported publication. To receive new posts and support my work, consider becoming a free or paid subscriber.
Love and peace,
Stan R. Mitchell
P.S. Don't forget to check out my books. I've written 11 of them, including: a CIA/Marine sniper series, a detective series, a private investigator series, an action-packed Western, a motivational self-help book about President Obama, and two realistic war novels: one about World War II and one about Afghanistan. You can find all of these books on Amazon.
---
Want to know more about me? Click here: About me. You can also learn more about my journey here: Writers are crazy, and I'm crazier than most.
---
---
---